There's something just so uplifting about the color mustard yellow! Cheery, warm and bright it makes a bold statement as an all-over wall color or as an accent color in just about about every room. It pairs beautifully with black, gray, navy blue and pink and is the perfect color for injecting a bit of retro charm to your modern day interior.
So what do you say, fancy a bit of mustard yellow decor lovin' in your life? Scroll on for some of the best mustard yellow decorating inspo around!
This post contains affiliate links for your convenience. If you make a purchase through any of these links, I may make a small commission (at no additional cost to you). Thank you for supporting this blog.
Mustard Yellow Walls
Mustard yellow and black – a winning color combination if I do say so myself! Loving the retro accents below too – a subtle nod to the color's 70s roots.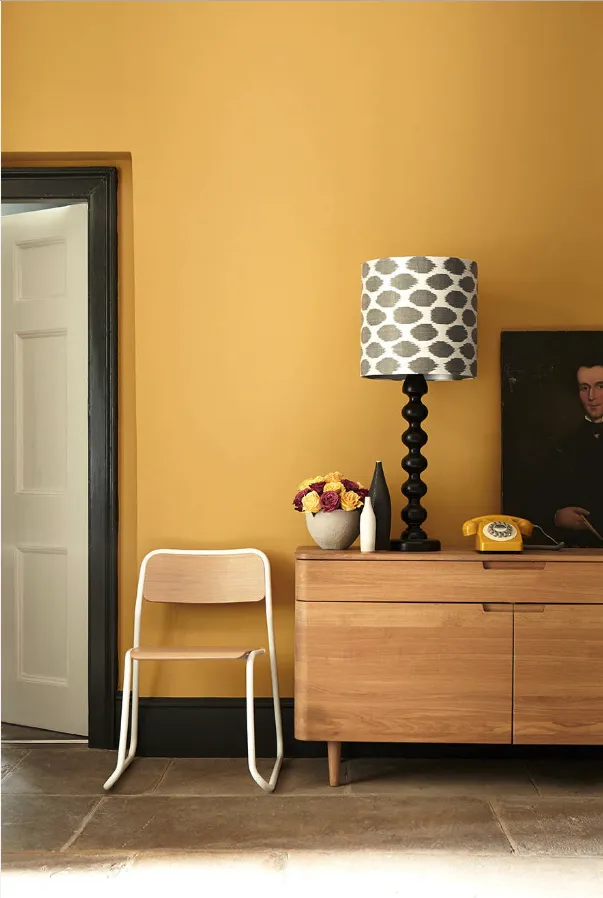 Mustard Yellow In The Kitchen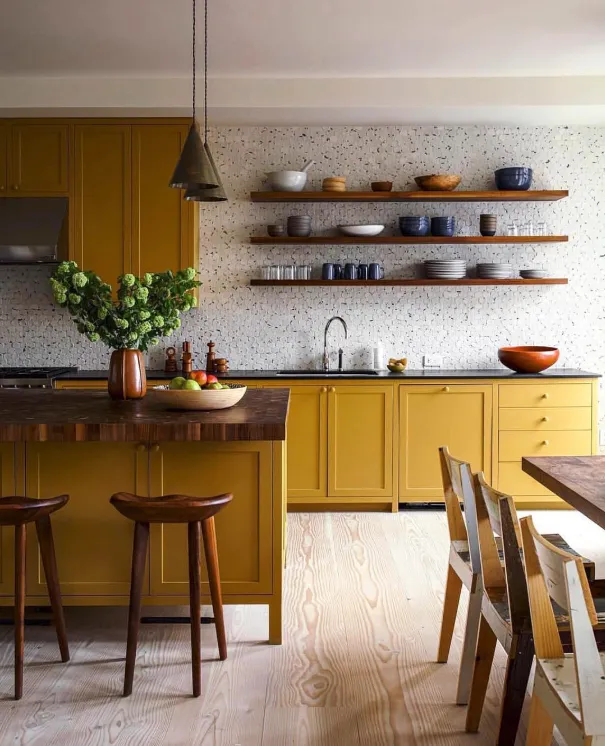 Go heavy all out mustard in the kitchen with floor to ceiling cabinets or go light and inject a hint of spicy mustard yellow to your table decor – both uses of the color look great in the kitchen – definitely not boring!
Mustard Yellow Bedroom Decor
Mustard yellow accents on a neutral base really add bang for your buck and make for a great focal point – like this eye-catching mustard yellow throw blanket from Urban Outfitters.
Mustard yellow and teal have got to be one of my favorite color pairings – the jewel tones are just really doing it for me at the moment! And can I just say, how cute is that monkey lamp! I was so happy when I found an almost identical lamp to the one pictured above on Amazon.
Another mustard yellow and gray pairing – can't go wrong with this winning color combo!
Another winning mustard color pairing – mustard yellow and pink! Don't forget the brass accents and boho-chic vibes.
Mustard Yellow Living Room Decor
How comfy cozy does that mustard sofa look?! It's like a giant marshmallow! Looks simply beautiful against the clean white walls too. Can't forget the gorgeous brass sconce lighting and round wooden side table.
Mustard yellow and mid-century modern go hand-in-hand. Funny that.
More mid-century vibes in another gorgeous mustard yellow and pink pairing…
Be bold – this combination of rich jewel tones in mustard yellow, pale pink and teal totally steal the show making for the perfect statement making eclectic living room design. Don't forget the brass!
The above mustard velvet sofa makes the perfect statement piece in this otherwise neutral modern Scandinavian style living room.
Mustard Yellow Patio Furniture
Don't limit yourself to mustard interiors – add a hint of mustard outdoors too! How great do these mustard yellow patio chairs look paired with warm terracotta tones – I'm definitely getting Mediterranean vibes!
Mustard Yellow In The Bathroom
Classic mustard yellow and black and white in the bathroom – nothing says rise and shine like a cheery yellow bathroom!
Did you enjoy this post? You might enjoy these as well;