Do you have a doggy with a sensitive stomach or peanut allergy? If so, this post is for you! Today we've rounded-up a selection of super-cute yet (mostly) healthy dog birthday cake recipes without peanut butter just for you!
This post contains affiliate links for your convenience. If you make a purchase through any of these links, we may make a small commission (at no additional cost to you). Thank you for supporting this blog.
1. Remy's Sweet Potato Pup Cake
This pup-friendly mini-layer cake by Tess over at Sweet Style is simply adorable! It contains absolutely no nasties, with ingredients including sweet potato puree, shredded carrot, oats, honey and eggs. Tess's cute Frenchie, Remy, definitely looks like a fan!
Whilst Tess's recipe calls for the tiniest amount of PB in her cream cheese frosting, you could totally substitute it for almond butter if your dog has a peanut allergy, or leave it out completely if you'd like to make it totally nut-free.
2. Grain-free Birthday Cake for Dogs
This grain-free pup-cake by Lindsay at Cotter Crunch is just so pretty! It was created for her sweet Vizsla pooch, Oakley, on her 1st birthday and is both grain-free/gluten-free and egg-free, making it the perfect choice for pups with sensitive tummies.
Key ingredients include chickpea flour, cinnamon, coconut oil, mashed strawberries, honey and greek yogurt (or coconut cream) for the topping. Check out the recipe on her website.
You might want to give this raw, meat-based birthday 'cake' a miss if you're a human, but if you're a doggo, you're gonna love it! Ingredients include minced duck and beef, coconut oil, berries and dehydrated sprats – a super easy, species appropriate pup 'cake' if you ask us! Cudos to the creators at Mojo and Friends 👏 . 
4. Coconut-Honey Doggy Cake
Super simple with only a handful of ingredients (5 to be exact), this yummy looking coconut-honey pup cake by Michelle at Brown Eyed Baker is perfect for celebrating your pup's birthday! Ingredients include coconut oil, honey, eggs, flour and yogurt (for the 'frosting'). Michelle's cute Golden Retriever, Duke, looks like he can't wait!
Head on over to Brown Eyed Baker for this super easy recipe. Be sure to check our her dog treat archives whilst you are there too – so many cute treat recipes!
5. Pumpkin Banana Pupcake
Casey from The Mindful Hapa whipped-up the above batch of scrummy looking pumpkin banana pupcakes for her pooch, Theo, for his first birthday (aww!). They're completely nut-free with a base of pumpkin, banana, eggs and coconut oil.
Casey used a greek yogurt/low fat cream cheese mix for her frosting instead of all full-fat cream cheese as it is much kinder on Theo's sensitive tummy.
6. Mini Berry-Almond Cake
Coco the Shih-Tzu's mini berry-almond cake is not completely nut-free but sure went down a treat for her birthday! This recipe by Sarah Dickerson of Chic Sprinkles over at Pretty Fluffy is super simple to make and only contains a handful of healthy ingredients. Super cute too!
Side note, be sure to check out Serena from Pretty Fluffy's awesome NEW dog treat recipe book, 'Healthy Homemade Dog Treats'! 
It's an absolute winner in our household!
Packed with 70+ healthy homemade dog treat recipes from pupcakes to pupsicles and everything in between, there is something for everydoggy in this cute-as dog treat recipe book.
7. Homemade Dog Birthday Carrot Cake
Happy Birthday, Amelia! Adrianna at A Cozy Kitchen created the above bone-shaped carrot cake for her Corgi pooch, Amelia's 1st birthday – so cute, and healthy too (well maybe not the frosting!).
8. Nut-Free Dog Birthday Cake
How cute is Whiskey the rescue daintily devouring his 4th anniversary birthday cake?! Whiskey's mum, Amanda of Life at Clover Hill, created this yummy looking pup cake using minimal ingredients, including shredded carrot and mashed banana for the frosting – yummo!
9. Sweet Potato Carrot Dog Cake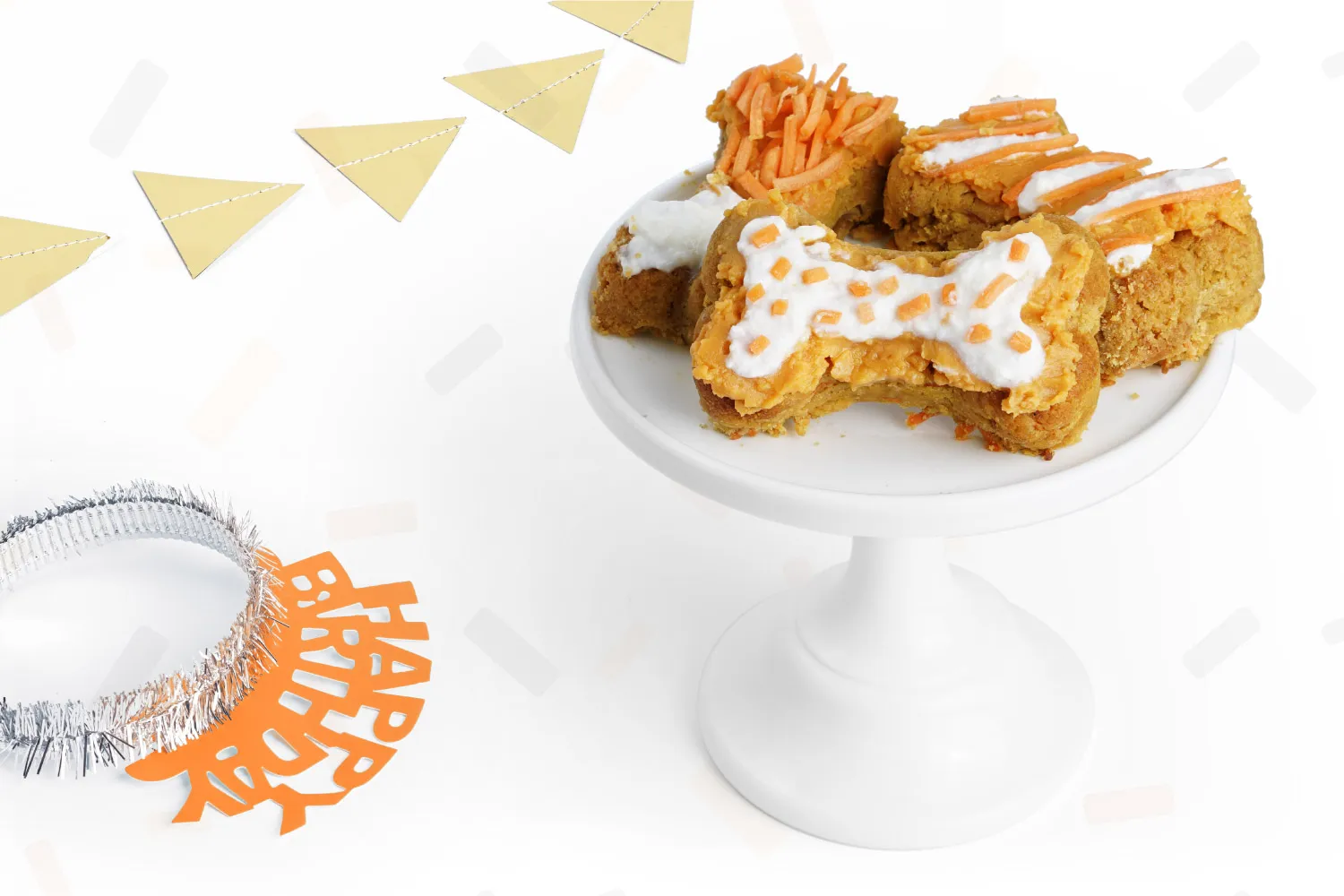 Another carrot cake dog recipe, because what doggo doesn't love carrots?! These carrot dogs cakes by Personal Creations also contain sweet potato puree for a bit of variety. We love how they've been decorated – so adorable! 
Dog Cake Mix Kits without Peanut Butter
Don't feel like making a dog cake from scratch? Check out these pre-mix doggy cake mix kits from Puppy Cake on Amazon – so many flavours to choose from!
If you enjoyed this post about dog birthday cake recipes without peanut butter, you can check out some of our other doggy DIY and dog treat recipe posts right here!