Love dogs? You're in the right place! Today we'll be running through 6 non-negotiable dog room decor essential categories. From bowls, beds, toys and tech, to pet gates, crates, dog doors and more. Keep reading for some of the best dog room decor ideas and inspo around 😉
This post contains affiliate links. If you click on one of these links and proceed to make a purchase, I may receive a small commission (at no additional cost to you). For more info, please visit our disclaimer page, here.
Dog Room Decor essential #1 – Water and food bowls
This one is a given really! Pets require access to clean fresh drinking water at all times so having bowls available to drink from is non-negotiable. You might even like to consider including multiple water sources, especially if your pup is prone to knocking their bowl over or if they like to make a mess with their water! Our cousin's dog Pip is the perfect example of this… she loves to dig around in her water – kind of gross but very cute!
Food bowls on the other hand are not necessarily non-negotiable unless you have a pooch that likes to graze throughout the day rather than eat their meals all in one go. Can't say we've ever experienced that in our house though – our greedy-guts spaniels aren't ones to leave food begging!
---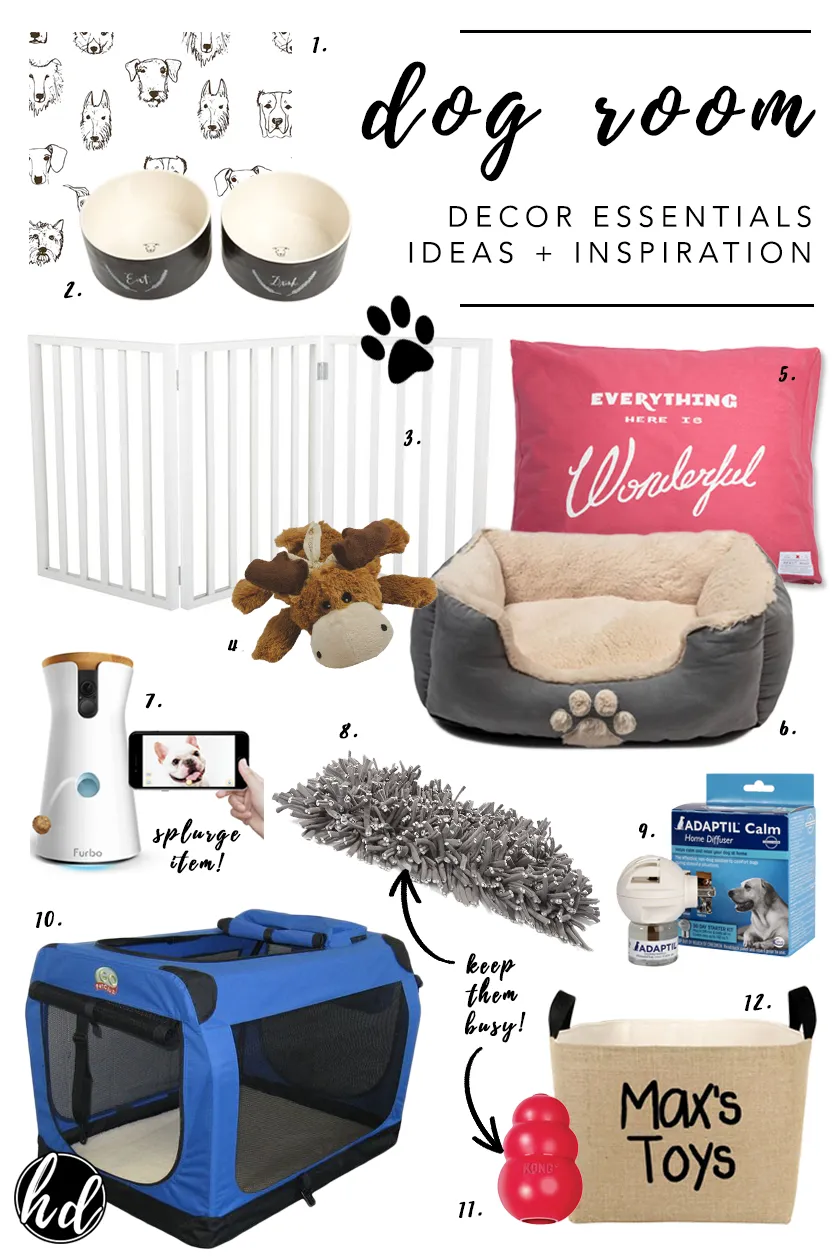 ---
Dog Room Decor Essential #2 – Bedding
Another non-negotiable, dogs need somewhere cozy and comfortable to sleep. An appropriately sized pet bed, mat, crate or snuggly pile of blankets should do the trick – it doesn't need to be fancy, just somewhere semi-soft they can rest their weary heads. For older dogs with joint issues, a comfortable, supportive spot to rest becomes increasingly important – orthopedic and memory foam pet bed options are great for these – bless their little hearts!
Dog Room Decor Essential #3 – Boredom busting Toys and Games
Boredom busting games and enrichment toys are a great addition to your dog room decor. Depending on the game/toy, they keep your pups busy and mentally stimulated for ages while keeping them out of mischief in the process!
For food and treat oriented pups, Kongs and snuffle mats are great! Simply stuff a Kong (or snuffle mat) with tasty treats and watch them get to work trying to get them out! With snuffle mats, dry treats are best whilst with Kongs, you can get super creative with both wet and dry treat options – Pinterest is a great source for Kong stuffing inspiration!
Kong also have an extreme version of the classic Kong available for all the master-chewers out there too!
Of course soft toys are fun too, can't forget those! If your pup has destructive tendencies though, perhaps opt for a more durable alternative. Our spaniels love squeaky plushies, however I've learnt not to leave them alone with them when we are out because sometimes our golden, Django, will chew ears, tails and small limbs off and swallow them whole! Cheeky boy.
Don't be afraid to get creative with your doggy toy storage decor – so many cute options out there!
Dog Room Decor Essential #4 – Pet gates, crates, pens and doors
Pet gates, crates and pens are great for keeping your pooches safe, secure and contained in their doggy rooms or designated areas. Built-in options like the ones pictured above and below are awesome (especially if they're within your budget), but they're definitely not "essential". There are tonnes of budget-friendly temporary, free-standing and movable options on the market these days, available in various colors and styles to suit your decor.
If you're feeling adventurous, you could even DIY your own! Just make sure your construction and the materials you use are dog-safe.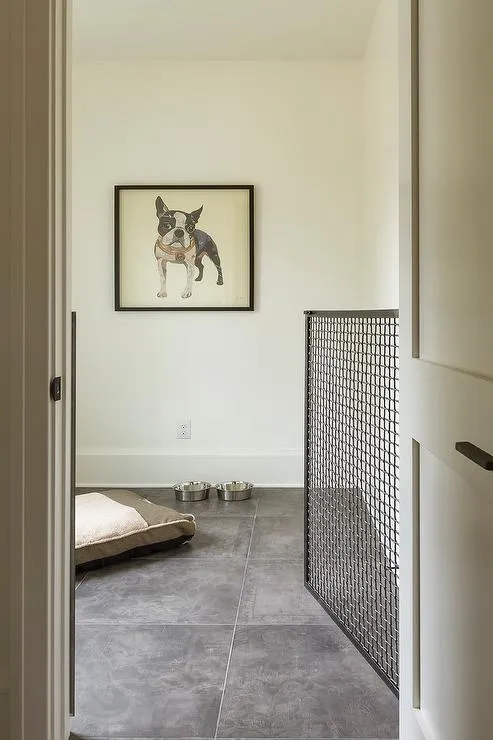 Another thing to consider will be if you'll be allowing your doggo access to the outdoors via their dog room or designated area. If you will be, doggy doors are a great investment. In our old place, we installed a patio sliding door insert, similar to this one (pictured below). I must admit, it was a little fiddly to install at first but easy to remove when we left and didn't leave much of a trace – great for renters or anyone with a sliding door that doesn't want to be cutting permanent holes into doors or windows!
Dog Room Decor Essential #5 – Monitoring tools and calming devices
Not really non-negotiable but nice-to-have nonetheless! Monitoring tools like the Furbo dog camera allow you to watch and interact with your dog while you are out. It has 2-way audio, 1080p full HD camera, a treat tossing mechanism and bark alert – all controlled remotely via mobile app. Great if you want to keep an eagle-eye on your pup/s in their dog rooms while you're out!
We don't actually have one of these at home yet (I've come so close to purchasing it countless times!), however the reviews are great and speak for themselves. I think 2019 might be our year, I just hope the boys don't destroy it trying to get the treats out!
Unlike the Furbo, Adaptil is a brand that I do have first-hand experience with, both at home and whilst working in an animal shelter. It comes in a variety of forms (spray, diffuser, collar) and is basically a synthetic copy of the dog appeasing pheromone which is supposed to help dogs feel calm and reassured – great for use in a dog room or kennel (if it works for your dog).
To be totally honest, Adaptil has been a bit hit and miss for me. It definitely seems to help with young pups, and seems to be most effective when you use it before your dog is in a panicked state (i.e. it helps to keep them calmer for longer). Near all vets and behaviorists I've known use and recommend this product and some dog-owners swear by it, however, it is important to know that it doesn't work for every dog and definitely doesn't "cure all" but is worth a shot if you are struggling with an anxious pup.
Dog Room Decor Essential #6 – Decoration (this is mostly for us!)
Maybe not non-negotiable for some but definitely non-negotiable for me! Now you've got the essentials down, why not have some fun decorating your canine crib! Be creative! Think doggy themed artwork and wall paper, rugs/mats, leash hooks and more – let the below images inspire and delight!
How cute is little Molly's room under the stairs?! Make sure you click through to Bored Panda for more pics and a breakdown of the whole DIY process – you won't regret it 😉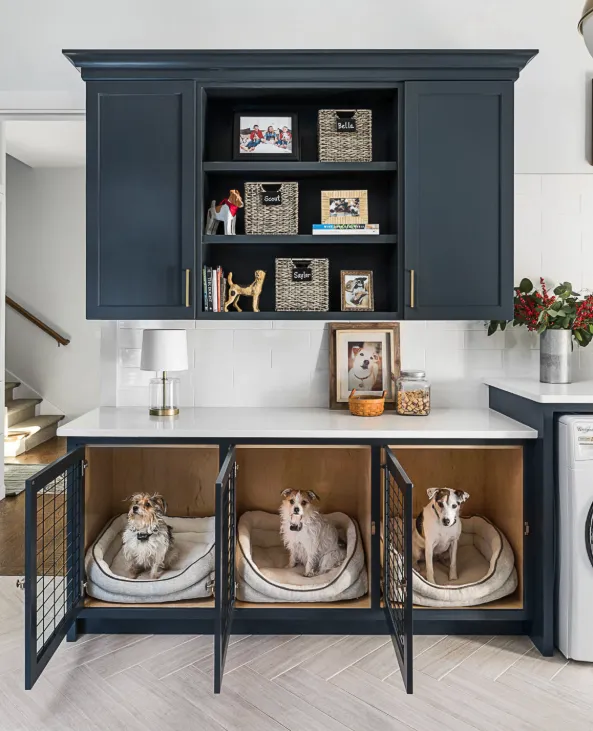 Did you enjoy this post about dog room decor? You might be interested in the following doggy decor related post too!